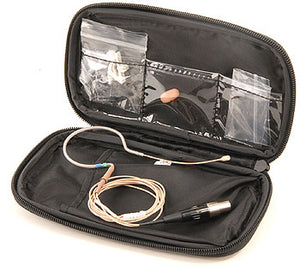 Alle Preise zzgl. 7.7% MwSt
All prices excl. 7.7% VAT
Aufgrund starker Nachfragen zu den Artikeln, bitte Verfügbarkeit vor der Bestellung bei usedgear@audiorentclair.com anfragen!
-----
Due to strong demand for the items, please contact usedgear@audiorentclair.com before ordering for availability!
Countryman E6
Countryman Isomax E6, Omni earset microphone (-0dB)
E6 Omnidirectional Earset Mic, Highest Gain, with Detachable 1mm Cable and TA4F Connector for Shure and Beyerdynamic Wireless Transmitters from Countryman is a vocal microphone with an adjustable boom that weighs less than one-tenth ounce. It is a water- and wind-resistant microphone that can be used on either ear for capturing audio in houses of worship, theater, or outdoor vocal and speech applications.